Welcome to Winchester SpeedPark Online. On behalf of everyone at Winchester SpeedPark, we would like to welcome you to our 16th season of racing!!
To keep things fresh, challenging and exciting we change the Sx layout EVERY season, Design for each year are under track layouts!

Rich Winkler from Dirt Wurx writes about the Mx track:
The property, adjacent to the Ashuelot River, is absolutely beautiful, and the dirt is perfect, a rich, black loamy topsoil that gets rough and builds killer berms!

This is real old school motocross …just how you remember it…. just like it should be….rough, fast, and demanding but still safe, and fun. There are off cambers and banked curves. There are step-ups and downhill floaters There are rough uphills, and a couple tabletops There are exactly zero gap style jumps!

We are very excited for the 2017 race season. Have a safe and fun season, from all of us at Winchester Speedpark! See you at the Races!
Winchester Speedpark
Philosophy

What do racers want?
Racers want a racer friendly, clean facility and pits and most importantly, a challenging yet safe track to ride and compete on. Conditions change due to weather and care - racers need to see effort and attention to the tracks, ensuring that the track owners and staff are doing the best that they can for them. Racers want to know that the tracks do care about racing, the riders and the organizations that visit.

Fair competition
Racers hope that the other riders on the line with them are in the proper class, with the proper bike and riding at the proper level. They hope that the referees are treating everyone equally. They hope that the rules of the competition are obeyed and upheld and that the place that they earned is how they are scored.

Safety
Racers hope that the on track staff is alert and ready to be their eyes and ears to help guide them. They hope that if they fall they are attended to and god forbid if they are injured they have proper treatment, compassion and attention.

Be Part of Something
Racers want to be around like minded people. We all come together because of one common interest - racing - or loving someone who loves racing - Having the structure, place and people set for riders to come together and become life long, close friends makes us all a part of one big family. Think about how many friends and families you have come to know and love over the years racing! Now, think of your life without them and without racing..................

Personal Goals
Every rider at every level has a goal that they set for themselves in racing. Weather it be mastering a particular jump or corner, attending a certain # of races, building their endurance and strength, winning a moto, or placing in a series. These goals are far better for anyone than what they could be doing in this day and age - especially kids and teens, how many kids (especially teens) actually spend a whole day with their parents on the weekends? I can't say enough how much I have heard parents say that they spend so much more time with their kids than other parents they know that are not in racing.


Injuries
Well, that's a tough one. But, it is par for the course. I know all racers know this and say "I love it anyway" Anything we do can be dangerous, I guess you feel most alive when you do what you love and therefore it is worth the risk. The pins, the rods, the scars, the bumps - they're at the track, all over in fact ( Dave has all of them too) - I always joke "you're all crazy" and most of you agree! The bad ones are hard for all of us, but we come together as a family to offer love and support, it generally works out, and if not we must trust in god, he knows far better than we.

Our goals
We hope to remember all of this or get out to someone who will - this is what it is all about! I'm quite sure you can add to this some of your positive thoughts on what it all means to you. I wish every race industry company every success and I hope every racer finds what they need. It's one of the fastest growing sports right now, we need to be focused on how to make it the best!!
By: Suzanne Boisvert

We are excited for 2017, we are learning so much each and every year
On behalf of The Boisvert Family and WSP Staff - HAVE FUN AND RIDE SAFE!!!!!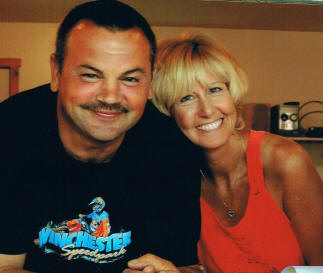 David & Suzanne Boisvert