WELCOME

RACE RESULTS

2018 RULES

2018 SCHEDULE

NERC.ORG


RACE SCHOOL

POINTS

Transponder Page

MY LAPS

FORMS & Membership

STAFF

PHOTOS

CONTINGENCY

SPONSORS

CONTACT

Track Layouts

VENDOR INFO

Accomodations
MX SPORTS




FRIDAY, JULY 13 2018
AJ CATANZARO MOTO-X ACADEMY
GUEST INSTRUCTOR MATT BISCEGLIA
SUPERCROSS TRACK
10-5
(RESCHEDULED FROM JUNE 28TH)
****************************************************
Sunday, July 15, 2018
NESC at WSP MX
Gate Fee: $10 Adults and Racers, 6 and under free (non-racers)
Winchester Residents and Seniors $5
Gates Open Saturday, July 14th 4pm-10pm
Sunday 6am
Sign ups Saturday 5:00pm-6:30pm
Sunday 7am-9am
Practice starts Sunday at 9am
Entry Fees: $35 first two classes, $15 each additional class
$10 One Day Fee (All Are Welcome)
Transponder Rental: $10 per day with $200 cash or credit card as collateral



Wristbands Provided By:





Wednesday, July 18, 2018
Open MX Practice (last one on the schedule)
2pm-7pm (note the time change)
Gates open at 12pm Practice Starts at 2pm
$25 for WSP/NEMX Members $35 for non-members
$10 for additional practice band (ex 65 and 85 or Vet and Amature)
if eligible
Pizza, Gatorade and Water will be available for purchase





**************************************************
SATURDAY, JULY 28, 2018
ROUND 4 SUPERCROSS SERIES
Schedule C
Contingency from:

___________________________________________
Like us on Facebook!


Open for Service, Parts and Accessories!
Great Shop rate....only $60hr!!
email us at info@winchestermotorsports.com or call 603-392-0120

TRACK PHONE
603-392-0419
________________________
LIVE STREAMING
RESULTS ALL EVENTS!
Click on Race results link....Live Results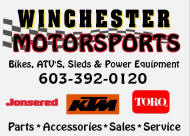 TRANSPONDERS
NEED TO RETURN
RENTED ONE?
Used at ALL Events:
Transponders
Rent for $10 Day
or
Purchase
TRANSPONDER
$103 and up
(subscription 1-5years)


Have a MyFlex
But need to renew
Subscription?
BUY HERE



#1 for Decades!
You must have Health
Insurance to race or
Practice at WSP
AMA Heath ins info
WSP Accepts
for your Convenience

Overnight camping is
allowed at track
Thursday evening is the best time to charge your
TRANSPONDER
Wake up Friday and it should be good to go for the whole weekend - takes around 16 hours
During the charge it will blink red.....when it turns green, it's done. unplug
It will blink green one time for each day of charge left
Blink
1 = 1 day
2 = 2 days
3 = 3 days
4 = 4 days
Red means less than 24 hours
So remember......
Wednesday night is Spaghetti night and.....
Thursday night is Transponder night! :)
So far you all have been
doing great!

OLD SCHOOL COMMERCIAL!!!
Under the Lights.wmv
S
E
E

Y
O
U

A
T

T
H
E

R
A
C
E
S

I
N

2
0
1
8