SMX TRACK PRACTICES....
WEDNESDAY PRACTICES, WILL RESUME THIS FALL!!


August 7th
NESC at WSP MX

Gates Open Saturday for Overnighters 4-10pm, Sunday 6am
Rider's Meeting 8:45am, Practice 9am
Sign up Sat 6-8pm, Sunday 7-9am

Pre Enter at http://www.nescmotocross.com/2016nesc_entry_form.pdf
Must Print off and Mail in (NESC MEMBERS)

Track Entry $40 first Class, then $30, then $15
1 class $40, 2 Class $70, 3 Classes $85
$5 Mechanic Pass
$10 Transponder Rental with $100 or CC
One Day fee is $10 if Not NESC Member
All Are Welcome!

WSP PAYS THE ONE DAY FEE FOR 85,65 AND 50CC RIDERS
WHO ARE NOT NESC MEMBERS AND WANT TO COME RACE!
ADDED 50/65 OPEN CLASS
Contingency From:




RACE ORDER
Winchester 8/7/16
50 cc
Super Mini
450 MX C/40+ C
250 Lites B
450 MX Pro/A
55+ Open/ Female
40+ A/40+ B
65cc
Open Novice
Open Amateur
Open Expert
85 A/B/C
50+ Open/30+ C
30+A/30+B
50/65 OPEN
Youth C
Youth B
250 Lites A/Pro/ Youth A
250 Lites C
450 MX B
45+ Open
Round 4 Fall
Saturday August 13th
WSP MX!

$35 a Class first 2, then $20
No One day fee, $5 Mechanic Pass for non members
$10 a day Transponder Rental with CC or $100 Cash
MEMBERSHIP GOES TO $50 FOR THE FALL SERIES - $75 FOR WSP & NEMX
Gates Open Friday 5-10pm Sat 6am
Sign up Friday 6-8pm, Sat 7-9am
Contingency From:





A= A SCHEDULE
___________________________________________________________
2016 New England Regional Championship
Labor Day Weekend
September 3rd, 4th, 5th 2016

This will be a Pro-AM Event!




You must be an AMA Member
AMA forms at track $49 to Join - AMA ONE EVENT PASS $20
AMA Family $98 (up to 5) - AMA Youth $29 (11 and under)
or MUST Show current AMA card
JOIN AMA
Support the American Motorcycle Association! They fight for your rights!

ONLINE PRE-REGISTRATION

SEE SCHEDULE AND PRICING FOR 2016
All the classes the Same as last year
Event Practice is on Saturday 1pm this year!
(optional practice Sat 10am)
3 Moto format!!

2016 NERC INFO HERE



NERC = A NEW ENGLAND TRADITION
Like us on Facebook!


Open for Service, Parts and Accessories!
Great Shop rate....only $60hr!!
email us at info@winchestermotorsports.com or call 603-392-0120

TRACK PHONE
603-239-6406
________________________
LIVE STREAMING
RESULTS ALL EVENTS!
Click on Race results link....Live Results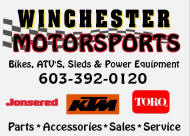 TRANSPONDERS
NEED TO RETURN
RENTED ONE?
Used at ALL Events:
Transponders
Rent for $10 Day
or
Purchase
TRANSPONDER
$103 and up
(subscription 1-5years)


Have a MyFlex
But need to renew
Subscription?
BUY HERE



#1 for Decades!
You must have Health
Insurance to race or
Practice at WSP
AMA Heath ins info
WSP Accepts
for your Convenience

Overnight camping is
allowed at track
Thursday evening is the best time to charge your
TRANSPONDER
Wake up Friday and it should be good to go for the whole weekend - takes around 16 hours
During the charge it will blink red.....when it turns green, it's done. unplug
It will blink green one time for each day of charge left
Blink
1 = 1 day
2 = 2 days
3 = 3 days
4 = 4 days
Red means less than 24 hours
So remember......
Wednesday night is Spaghetti night and.....
Thursday night is Transponder night! :)
So far you all have been
doing great!

OLD SCHOOL COMMERCIAL!!!
Under the Lights.wmv
S
E
E

Y
O
U

A
T

T
H
E

R
A
C
E
S

I
N

2
0
1
6