WELCOME

RACE RESULTS

2021 RULES

2022 SCHEDULE

NERC.ORG


RACE SCHOOL

POINTS

Transponder Page

MY LAPS

FORMS & Membership

STAFF

PHOTOS

CONTINGENCY

SPONSORS

CONTACT

Track Layouts

VENDOR INFO

Accommodations
MX SPORTS


NEXT WSP EVENT

2022 AWARDS BANQUET
JANUARY 14, 2023


WSP & NEMX


Top 10 Awards
Buffet Lunch
Raffles
Arrive 11:00 am check in – then at 12:00 pm Award Ceremony begins
1:30 p.m.- Buffet/Lunch (approx.)
Devens Common Center
31 Andrews Parkway
Devens, Ma
978-772-0188
Rooms available at $129 a night when reserved by 12-14-2022 when calling let them know you are with WSP/NEMX Awards Banquet on January 14, 2023.
Spring Hill Suites 27 Andrews Parkway, Devens MA 978-772-3030

YOU MUST PURCHASE TICKETS TO ATTEND. The room is set up for the numbe of tickets sold. No walk ins.

Ticket Request MUST BE IN OUR HANDS Deadline: December 15, 2022 –
no exceptions
To be eligible for award, must be top 10 and have completed the number of rounds listed below
WSP Spring Series 5 out of 9, WSP Fall Series 5 out of 9
PRINTABLE 2023 BANQUET FORM
2022 WSP-NEMX Banquet Form.pdf
ONLINE 2023 BANQUET FORM (link below)
https://winchesterspeedpark.com/paypal-forms/banquet_form.php
**********************************************************************


We will be increasing race fees for 2023.
First 2 classes will be $40 each and additional classes will stay the same at $20
2
023 MEMBERSHIP FORMS
Deadline to Reserve your 2022 bike number for the 2023 season is 12/31/22
As of January 1, 2023 ALL 2022 Numbers Not Reserved Will Be First Come First Serve

2023 Online Membership Link Below

https://winchesterspeedpark.com/paypal-forms/entry_form.php
Printable Membership Forms are now located under the FORMS & Membership Tab
Like us on Facebook!


Open for Service, Parts and Accessories!
Great Shop rate....only $70hr!!
email us at info@winchestermotorsports.com or call 603-392-0120

TRACK PHONE
978-877-6526
________________________
LIVE STREAMING
RESULTS ALL EVENTS!
Click on Race results link....Live Results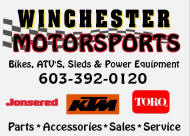 TRANSPONDERS
NEED TO RETURN
RENTED ONE?
Used at ALL Events:
Transponders
Rent for $10 Day
or
Purchase
TRANSPONDER
$103 and up
(subscription 1-5years)


Have a MyFlex
But need to renew
Subscription?
BUY HERE



#1 for Decades!
You must have Health
Insurance to race or
Practice at WSP
AMA Heath ins info
WSP Accepts
for your Convenience

Overnight camping is
allowed at track
Thursday evening is the best time to charge your
TRANSPONDER
Wake up Friday and it should be good to go for the whole weekend - takes around 16 hours
During the charge it will blink red.....when it turns green, it's done. unplug
It will blink green one time for each day of charge left
Blink
1 = 1 day
2 = 2 days
3 = 3 days
4 = 4 days
Red means less than 24 hours
So remember......
Wednesday night is Spaghetti night and.....
Thursday night is Transponder night! :)
So far you all have been
doing great!

OLD SCHOOL COMMERCIAL!!!
Under the Lights.wmv
S
E
E

Y
O
U

A
T

T
H
E

R
A
C
E
S

I
N

2
0
2
1